CraftCulture. Dnepr Beer Fest
The craft beer festival
Information about the customer: Three Legs pub is the culture-bearer of high quality beer consumption in Dniepr.
Target audience: Dniepr city residents and brewers of Ukraine
Guests: 3000 people
Terms: 1 month
Project implementation:
CraftCulture is a place for those who value communication and real craft beer. New tastes and unknown facts from the history of beer.
It was organized a forum of brewing specialists from all over Ukraine.
During two-day festival following activities were held: craft beer fair, lectures from brewers and Kiev Beer League representatives, contests and prize drawings, Dj Sasha Sam performance and the headliner Red Wolf band.
During the Craft Culture the festival was visited by 3000 people who drank more than 5,000 liters of beer from 11 brewers from all over the country.
CraftКультура. Dnepr Beer Fest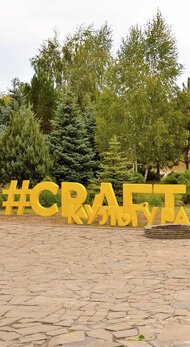 ---